S Justaprimadonna AHA #572963 (Justafire DGL X Rohara Diva) is a very well bred mare with an absolutely wonderful pedigree, by Justafire DGL who spent many years as a leading sire, out of Rohara Diva, who also is a halter champion producing champions, Primadonna's lines also include Afire Bey V, MC Justa Kate, Huckleberry Bey, The Chief Justice, JK Amedeus, Scherherzadd, Bey Shah, Makhsous, and 3 crosses to Bask. Primadonna was broke to ride, has had 3 foals and an easy breeder. Breeder's Sweepstakes Nominated. PEDIGREE

PICS COMING SOON!!
ONE MIDNITE DREAM X DW KHAYLEE SHAY
2-28-14 Bay Colt, AHA Pending, 3 socks very dishy head and tippy ears, one NICE COLT! Sweet disposition, leads, picks up feet, clips ties. Sire is a son of Opus One+ who is a Canadian National Futurity Reserve Champion and two time Canadian National Top Ten, and sire's dam, Zaahin Haalim who is by halter champion Bey Ninja (Bey Shah). Sire's bloodlines also include AAF Kaset, Aladdinn, MS Santana, and four crosses to Bask. His dam is a Soho Carol daughter, dams lines include 2 lines to Ali Jamaal, RSD Stndg Ovation, Bey Shah, 2 lines to Khemosabi, Ludjin El Jamaal, El Shaklan, 2 lines to Bask, Mi Tosk.
AAF Kaset+ (Aladdinn X Kaseta)
Opus One+
Basrina (Bask++ X Sir WMS Csarina)
WH PENDING

AHR#

Bay colt socks & star

Foal 2-28-14

One Midnite Dream
Bey Ninja (Bey Shah+ X Zar Hallisa)
Zaahim Haalim
MS Dream On (MS Santana X Dream Dancer)
*Ali Jamaal (Ruminaja Ali X Heritage Memory)
Soho Carol
*RSD Stndg Ovation (Bey Shah X RSD Khaptivation)
DW Khaylee Shay

ZT Gafjamaal (Ludjin El Jamaal X ZT Gaffislover)
Khemanah Jamaal
Kholleen (Khemosabi X Mi Colleen)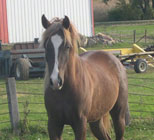 SOLD!! WH CREATING DREAMS (One Midnite Dream X Ras Tsultana) AHA# 632496 Foaled 5-12-07
LIVER CHESTNUT GELDING WITH FLAXEN MANE, BLAZE AND TWO SOCKS.
THANK YOU TOM & ROSANNA GRABER!!