Here are some of our favorite links:

arabhorse.com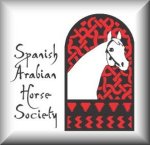 The mission of SPANISH ARABIAN HORSE SOCIETY is to preserve, improve, and maintain the purity of Spanish blooded horses of the Arabian breed. SAHS strives for the advancement of education for the benefit of the public, to promote and facilitate the acquisition and distribution of the knowledge, in all countries, of the history, care and propagation of the Spanish Arabian horse.
Kari Crawford Horse Training, Conifer, Colorado - gentle training methods utilize dressage principles and emphasize building mutual communication based on the horses' natural behaviors, to produce a safe responsible partner.
KnR Arabians - is a small privately-owned Arabian breeding farm located northwest of Hampton, Iowa. Owners Kelly and Russ Reynolds have been breeding Arabian and Half-Arabian horses for over 15 years. They are currently standing the multi-champion stallion, BEY SHAHN
Iowa Gold Star Futurity -The fastest growing futurity in the Midwest. Welcoming both Purebred and Half-Arabians.
Marosh Arabians - National Champion caliber foals for sale by Odyssey, Magnum Psyche, DS Major Afire, Legacy of Fame, and many more. Horses for sale and Arabian magazines and videos for sale.
Red Rock Arabians - a premier equine establishment located just outside of Lytton, Iowa. Owned and operated by the Larry Ellis family, Red Rock Arabians began with predominantly Polish bloodlines, but now focus on mainly Russian/Crabbet crosses as well as some select domestic bloodlines.
Arabian Sites - Your showcase on the web for Arabian horse farms, trainers, stallions, and quality Arabian horses for sale in our classifieds
Bits and Bridles - Equestrian equipment forum and classifieds
Arab Horse.net - Exquisite Breeder's listings!
The Judge's Choice - Equine Classifieds. A site for "all things" equine!
We're a preferred vendor in the Des Moines, Iowa Horse Sales & Breeding section of NewHorse.com.
The Stallion PlaceThe Stallion Place is dedicated to stallions and stallions only! You can list your stallions at stud, for sale or any stallion services/supplies you offer.
The Dragon's Eye Haunted Barn - Northern Iowa's scariest haunted barn. We invite you to join us this Halloween season and walk through "The Dragon's Eye" ..... if you dare!