One Midnite Romance AHA# 624065 foaled 5-2-06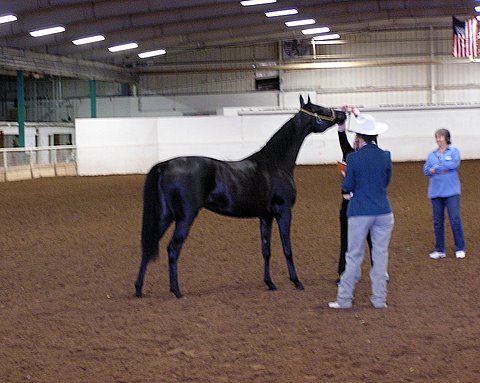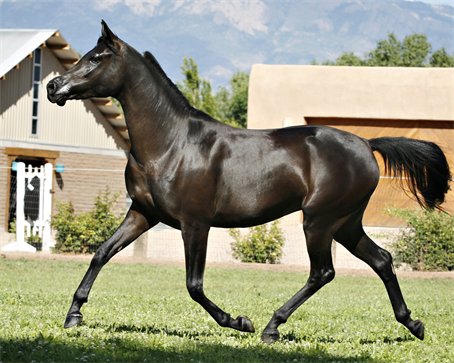 (One Midnite Dream X Ras Tsultana)
Beautiful Homozygous solid black filly. Imprinted, Leads, picks up feet, clips and is handled daily. Long straight legs, short ears, dishy head, sweet personality. Dam did very well shown as a yearling in halter and this filly is a halter champion scoring 97. Breeders Sweepstakes foal.
THANK YOU KATHY TOWERY, ROMANCE ARABIANS, CORALLES, NM! GOOD LUCK AND MUCH FUN IN SHOWING HER!
Full sibling available.
ONE MIDNITE ROMANCE'S SHOWS

2007

2008

May 13 ZIA Classic II Halter

May 13 ZIA Classic II

Fillies 2006 and After

Champion Filly

Champion Mare

ATH

Champion ATH

First Place

SCORE OF 97

First Place

First Place

First Place

First Place

First Place
AAF Kaset+ (Aladdinn X Kaseta)
Opus One+
Basrina (Bask++ X Sir WMS Csarina)
One Midnite Romance

Solid Homozygous Black Filly

AHA# 624065

Foaled 5-2-06

Owner Kathy Towrey, Corrales,NM

One Midnite Dream
Bey Ninja (Bey Shah+ X Zar Hallisa)
Zaahim Haalim
MS Dream On (MS Santana X Dream Dancer)
Garbo (Orive X Baldosa)
*Aguilo
Sacarina (Jacio X Garpa)
Ras Tsultana

Breeder's Sweepstakes Entry

Creator LTD (Aladdinn X Fame++ by Bask)
Cretilla
Tscintilla (Ivanhoe Tsultan X Papillion)