WH Midnite Temptation AHA# 632495 Foaled 3-25-07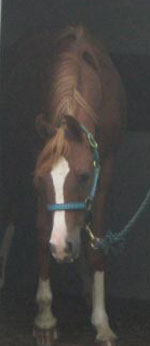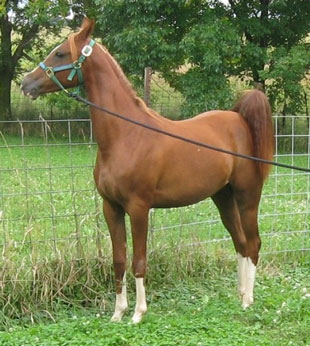 SOLD!!
(One Midnite Dream X WH Sassarina)
EASY GOING CHESTNUT FILLY, CHROME, CHROME, CHROME!! Carbon copy of dam for color right down to the white under the chin! Leads, ties, picks up feet, trailers, and is handled daily. Will be sure to capture the judge's eyes and heart with her four socks, blaze and sweet, inquisitive nature. She possesses that look at me attitude and the floating trot.
THANK YOU SHAWNA MIDDLETON, AMES, IA!!
AAF Kaset+ (Aladdinn X Kaseta)
Opus One+
Basrina (Bask++ X Sir WMS Csarina)
WH MIDNITE TEMPTATION

AHA# 632495

Chestnut filly four high socks & blaze

Foaled 3-25-07

One Midnite Dream
Bey Ninja (Bey Shah+ X Zar Hallisa)
Zaahim Haalim
MS Dream On (MS Santana X Dream Dancer)
Garbo (Orive X Baldosa)
*Aguilo
Sacarina (Jacio X Garpa)
WH Sassarina
RK Ka Sham (Rolling-K-Kazzam X RK Miss Debonair)
RK Crystal Dreams
RK Azlas Angel (Rafeyzam X Rolling-K-Azla)